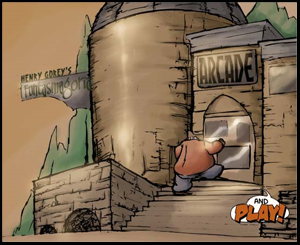 Named after it's owner, Henry Gorey's Funtasmagoria is the best little arcade in Timber Valley.
Rustic, but well-loved, the place is home to several old arcade games, as well as a few new ones. The owner is a kind, inspirational old man named Henry Gorey, who doesn't mind taking a moment from cleaning the monitors and keeping the machines in good condition to chat with his young visitors, as well as reminisce with some of the older ones who were around when the arcade machines were new and Tetris was the new big thing.
Architecture
Edit
The Funtasmagoria is a mainly brick establishment, with a large dome on the Western wall that looks like it could have been used as an observatory at some point. It has a very dull, brown color scheme to it, but it fits in nicely with Timber Valley's open, largely natural environment.
The Funtasmagoria is a location often frequented by the arcade-loving Gar, and is also the place where he met Mac. The two of them had a brief rivalry here, before settling things and becoming friends. It was also here that Henry Gorey had a small chat with Posey, offering her words of advice that ultimately helped alter her opinions about Mort, and began a little project of her own to help him remove the cynical darkness that seemed to darken his perspective on life.
The Funtasmagoria's motto is "Ludere est Flectere", which means "To Play is to Overcome." Henry Gorey has used this as a basis for his work with troubled youths, many of whom have grown up without much of an outlet in life to relax or forget their troubles. It's Henry's belief that a little bit of time away from the real world can go a long way to help rebuild confidence and faith in their lives. And it only costs a quarter.
First Appearances
Edit
While the first major scene set in the Funtasmagoria was issue [#029], the arcade had actually made a brief appearance in the last panel of [#024].