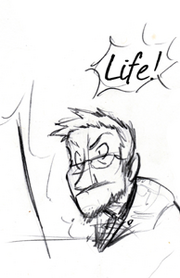 Sean Pendleton is the co-creator of the web comic Same Apartment, along with his brother John. He is also artistically insane.

---

Profile

---
He started drawing when he was five, having been watching cartoons since before that. He has stated he could never concentrate on a single story or set of characters. For this reason he has a multitude of different "series" all with different casts and sometimes different universes, (Marvel for instance can coexist with Genesis, but probably not Dawson, Jesse and Leroy). Back then he'd "slap a name on a bunch of related pictures and he'd have a "series," but that's how I got started drawing the things I do now. I try not to do that as much now. I try. "

A couple of years ago he got a huge injection of independence when he took on an internship at the Disney College Program, and it "made my art even weirder than it would've been otherwise. It also gave me a chance to do something I thought I'd never do (among other things), get into puppetry. I'm now an avid puppeteer in addition to my drawings."


Sean has both a Deviant Art site, plus an official homepage, both of which he maintains diligently.